A new water connection gives you access to Sydney Water mains so that you can use potable and recycled water for your new or exisiting building or development.
Connecting a new water service to an existing water main is an essential part to almost every development.
Whether it be for a new "main to meter" water service which supplies drinking water to a new lot, or a large pipe connection which will provide water for fire hydrant and sprinkler services to the premise, All Line Plumbing have the expertise and experience to connect you to the water supply safely and correctly.
All Line Plumbing are Sydney Water Approved Constructors
Sydney's water is an important natural resource and ranks amongst the best in the world for its tap water quality. It is important to protect Sydney Water assets as a safe supply of drinking water is fundamental to public health. It is also essential that when any water works are required on or around Sydney Water assets, that an approved Sydney Water Constructor like All Line Plumbing is carrying out the required tasks.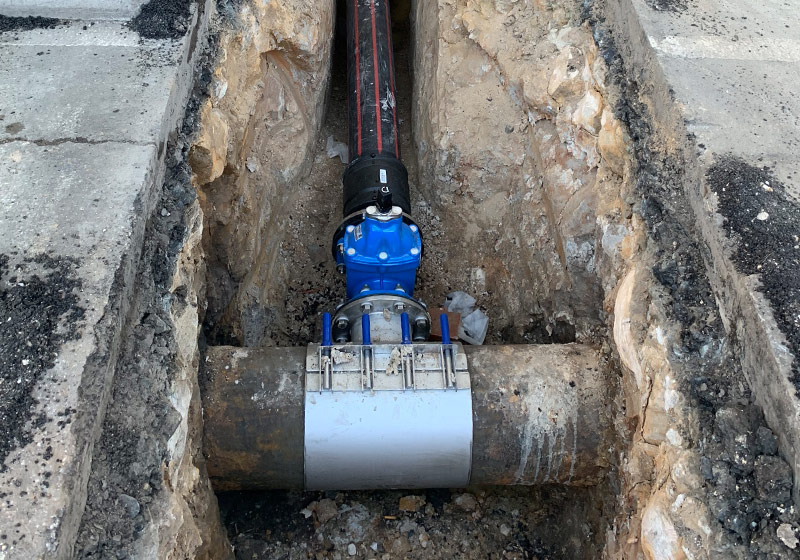 ---
Connecting your property to water pipelines
Below is the most common process in connecting your property or development to the city's water pipelines:
Apply to Connect
You will first need to apply for the new connection via the Sydney Water Tap in website.
Getting Connected
You will need to engage an accredited Sydney Water listed constructer like All Line Plumbing, once your connection has been approved.
Inspection
If required, we can organise for NSW Fair Trading to inspect the property to ensure it complies with the Plumbing Code of Australia. Sydney Water may also want to inspect any connections and plumbing such as tanks & pumps.
Water Meter Installation
A water meter must be fitted to your water service before you start using water.
Certification
You are able to occupy your building once your local council or private certifier issues an occupation certificate. They will also need to see a copy of your Section 73 Compliance Certificate.
A new water meter will usually need to be installed within 2 days after connection to Sydney Water's water main and must always remain accessible.
Property owners usually own and are responsible for the water pipes from the point where they connect to the water main. Sydney Water are responsible for the main and the water meter only.