We are your local, trusted and fully licensed Sydney Water and Hunter Water constructors for the construction of new sewer mains
A sewer main is defined as the primary pipeline in a sewage system.
There are usually 4 steps involved in the construction of new sewer mains.
Determine the length and elevations and calculate the slope
A Water Servicing Coordinator will design the new sewer pipe and determine the elevations, depth, length and slope calculations.
Dig the trench and lay the bedding
The trench is usually dug using an excavator and must be dug on an angle to allow liquids to flow through the pipe. A slope that is too steep will create clogs and a slope that is too shallow will not provide enough velocity for proper drainage.
Install the pipe
Sewer pipe is then installed one section at a time and the pipe that connects to the city main must be per the city's specifications.
Backfill the trench
After the sewer main has been installed and passes inspection, the trench is backfilled.
We are an accredited Sydney Water Listed Constructor
All Line Plumbing are Sydney Water and Hunter water accredited constructors which means you can be confident that we will connect your home or business to sewer mains with ease.
Contact Us Today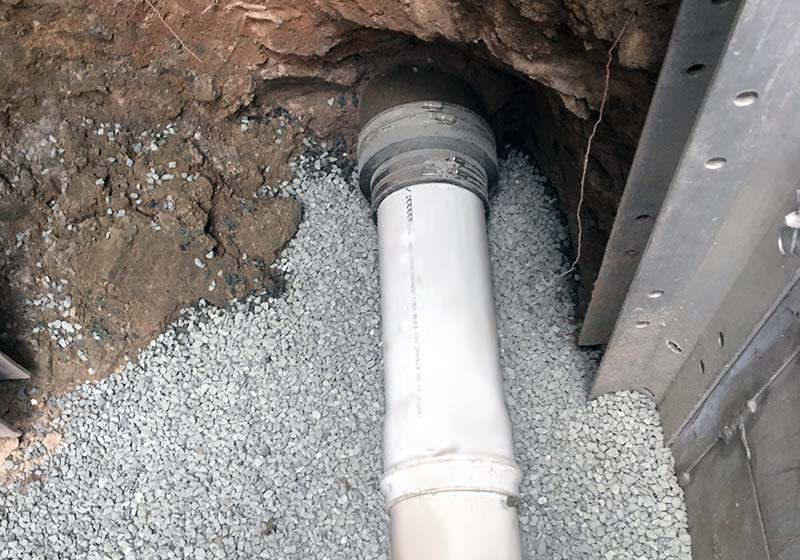 ---
Maintenance holes and inspections shafts may also be required to be built when constructing new sewer mains.
A maintenance hole (also known as a manhole) is a sealed chamber that provides access to humans to the sewer main. Generally, sewer manholes can be found in roads, footpaths, driveways, public spaces, and inside private properties.
Unlike a manhole, an inspection shaft is too small for a human to access but does allow for plumbing equipment to be used.
Manholes and inspection shafts must always be easily accessible as they are used to perform routine maintenance and for emergency purposes such as:
Inspections and testing of the sewer system
Cleaning and removal of any blockages
General operational inspections of the sewer pipes